This offline Bible app makes it easy to read and study the Holy Word of God on your phone or tablet Android. Download it now for free!
The original edition of the Catholic Public Domain Version to install for free!
This new app provides you a Bible version translated from the Latin Vulgate, using the Douay Rheims as a guide in translating the Latin text into English.
Enjoy the complete Holy Bible accepted by the Roman Catholic church.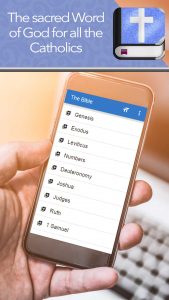 You are going to love this app if you want to have the Word of God at your fingertips!
With this version of the Bible you´ll be able to enjoy it at its best. Take God´s Word with you everywhere and pray whenever you feel so.
Download this free version from Google Play Store and read the Bible, any time, anywhere. Enjoy an accurate, understandable translation using common language
We offer a complete Bible application with all the books recognized by the Catholic Church.
The composition of the canon of the Catholic Bible differs with the canon of the Protestant bibles: The Old Testament of the Catholic Bible has more books than the Protestant Bible.
The Catholic Bible, in addition to the 66 of the Hebrew Bible, has seven more books considered true or canonical and accepted by the Catholic Church. These books were called deuterocanonical or apocryphal and are: Tobiah, Judith, 1 Maccabees, 2 Maccabees, Wisdom, Ecclesiastic (or Sirach) and Baruch.